Floor Plan and Interior Amenities
The design of the Market intentionally works to create natural opportunities for people to gather and connect while offering an inclusive space that attracts visitors from all backgrounds. The key areas of our Public Market include:
Market Hall: The marquee feature of the Market, is this large, central space that will house 30+ permanent market merchant booths plus space for temporary vendors. The variety of booth sizes and permanent/seasonal vending options offer opportunities for local businesses both big and small to call the Market home. A restaurant and a cafe will provide important anchor tenant spaces while small 10′ x 10′ booths provide affordable, flexible space for MarketReady vendors and other start-up businesses.
MarketReady Hall:  The purpose of the designated space for creating new food-related businesses is to offer shared and affordable access to a commercial food production business incubator. MarketReady Hall will house facilities for food production and processing. It will provide users with access to services and infrastructure that are significantly beyond the reach of a typical low-capital start-up.
Providing a fully licensed shared-use commercial kitchen and food processing facility will help lower costs and allow for a faster ramp up for growth. Many of small businesses and start-ups are involved in small or medium scale food manufacturing and consumer packaged goods. The production center will allow these companies to expand their production and augment distribution to grocers, restaurants, food service providers, and institutions – taking their business to the next level of growth.
South Hall Event Space: Unique to our Market, the South Hall will provide an event and temporary vending space for winter farmer's markets, live music, pop-up craft fairs and many other events. It will be available for weddings, conferences, and family gatherings, accommodating seating for 300 people. The two story overhead doors make it possible to accommodate food trucks at winter indoor food cart festivals and other temporary vending. There will always be something new to experience at the Market!
Market Kitchen/Food Innovation Center: The Market will offer a commercial kitchen for vendors to have a shared food prep area and the opportunity to cater events with the Market as a base of operations. Cooking classes, demos, and collaborations with other community organizations will be available through the Market Kitchen.
Art spaces: The Madison Public Market Foundation is creating multiple art spaces within and around the Market to focus on local food history and to highlight the traditions of local cultures. These vibrant, colorful and educational art expressions are being conducted through collaboration with  Today Not Tomorrow, Centro Hispano, the Farley Center for Justice, and Ho Chunk Gaming Madison and other organizations.
Second Floor Mezzanine: Upstairs and overlooking the bustling Market Hall, visitors can enjoy the Market Mezzanine. This ADA accessible second floor level will offer a commanding view of the Market, plenty of seating, the children's area, a community meeting space, a small kitchenette to support meetings, bathrooms, and importantly, office space for the Madison Public Market Foundation.
Image looking from the main E. Johnson entryway down the Market Hall corridor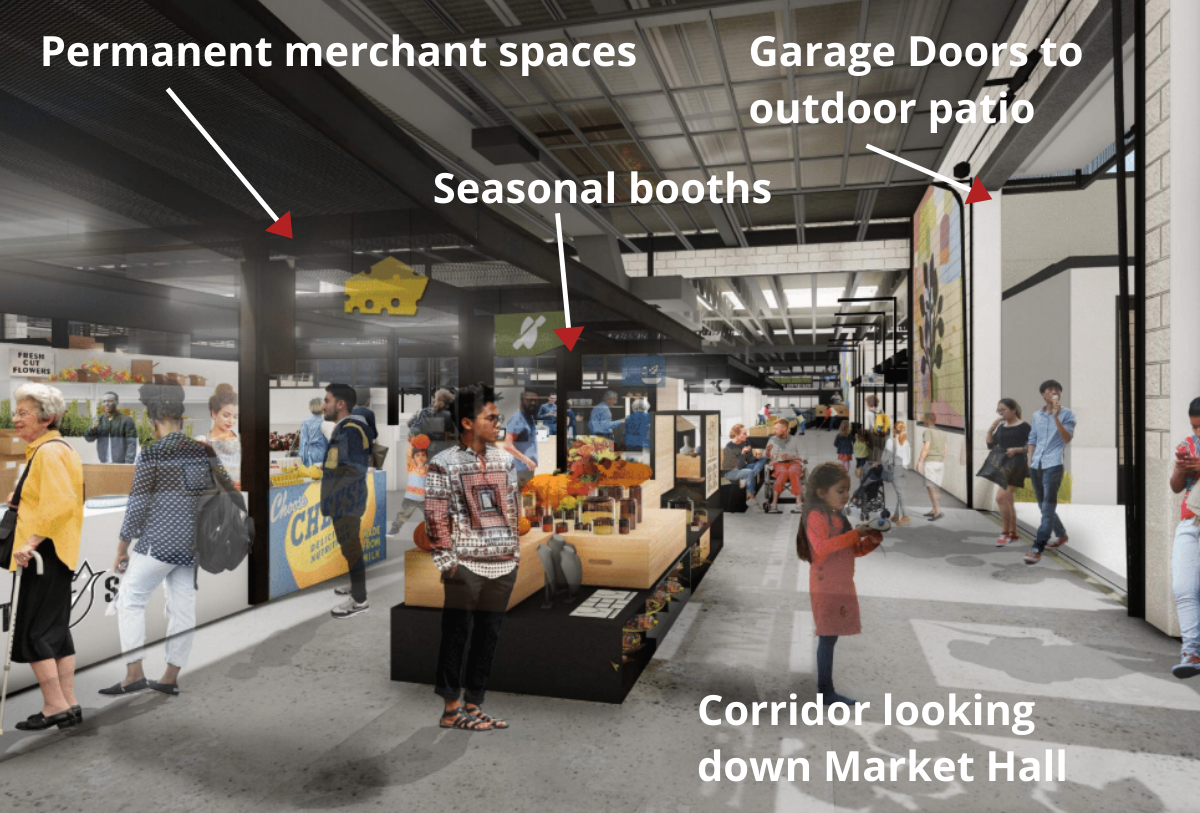 Image from the Mezzanine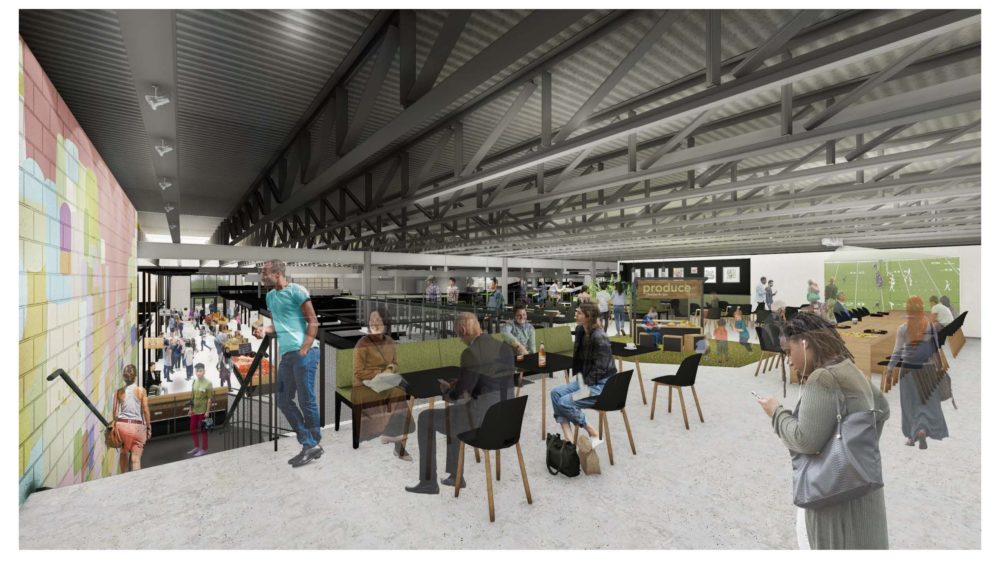 Floor Plan – detailed
(Click on the image for details)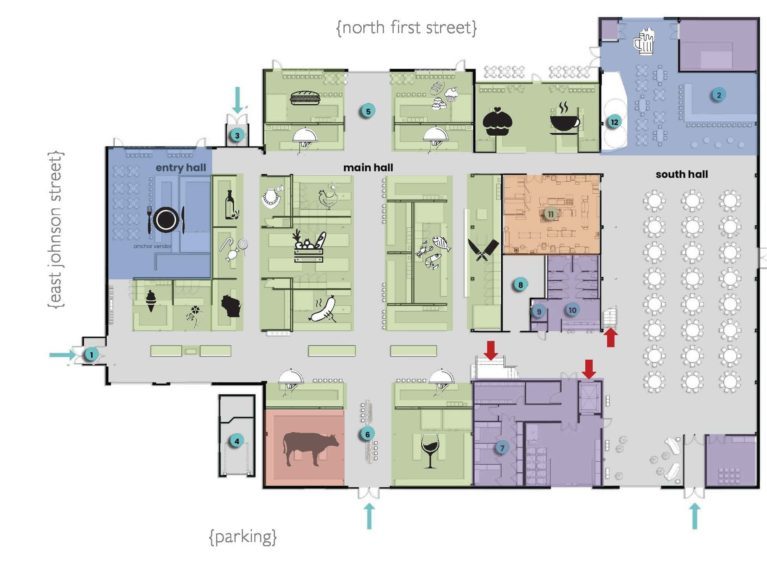 2nd Floor Mezzanine
(Click on the image for details)