The City of Madison Public Market Development Committee unanimously voted to approve the current site plan for the Public Market, moving the project forward (See below).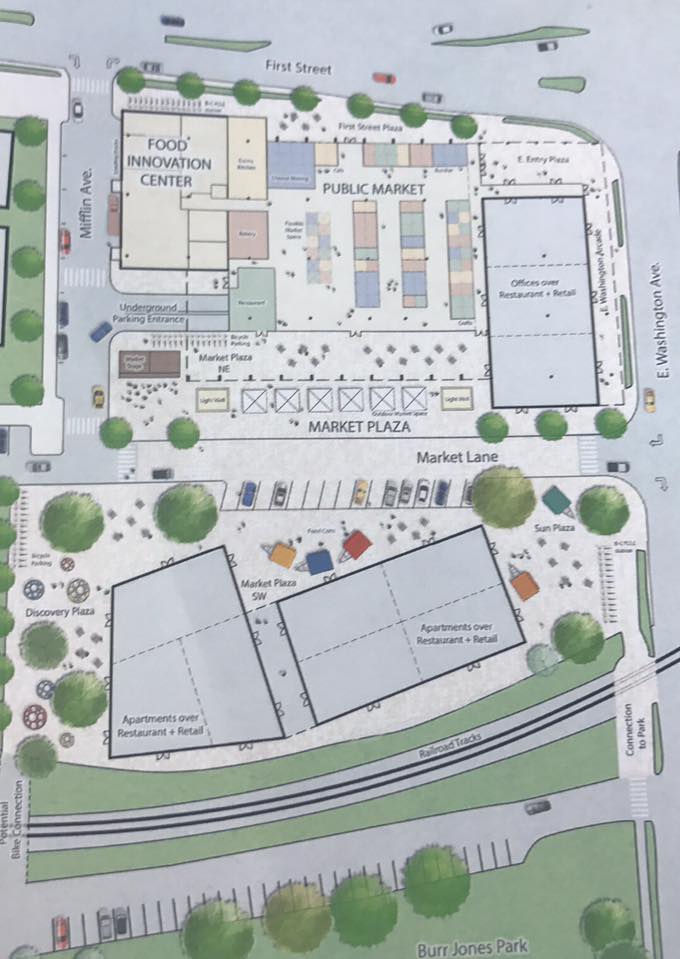 The site plan's main features include:
50,000 square foot Public Market, including a Food Innovation Center
Outdoor Market Plaza for outdoor seating, food carts or outdoor merchants, and live music and other entertainment
Pedestrian connection to nearby Burr Jones Field and the Yahara River
4-5 story apartment structure across from the Market
Retail space
Underground Parking
Committee members expressed a few remaining concerns that were noted by city staff and will be discussed with the architects and developer partners. These concerns included: offering only 1 parking garage entrance/exit, creating an outdoor plaza entrance on the busy E. Washington Street corner (alternative may be to have an indoor entry/atrium), running Market Lane through the property (a member hoped it could be an entire pedestrian area), and creating diagonal parking on only one side of Market Lane (one member suggested that it should be parallel parking on both sides of the street.
The Committee seems to be divided on whether the Public Market should be situated along the railroad tracks and park. However, the property owners prefer placing the apartments on the park and the Public Market on the more visible, accessible street corner. City staff have expressed their support of the current Public Market placement.
The Committee also discussed two updated design mock-ups for the building's exterior. There was a lot of discussion, differing opinions, and recommendations on the designs. Overall, the Committee preferred the building design pictured in the featured image at the top of this page. However the Committee recommended that a special Committee meeting be scheduled to refine the building design to better reflect a vibrant and engaging Public Market that represents Madison.
While there is still work to be done on finalizing building design, the Committee took a big step forward in approving the site plan concept. Never before has our Public Market been so close to becoming a reality.