Floor Plan and Interior Amenities
Our Public Market will be a vibrant destination for locals and tourists to gather and experience our love of food – something that connects all of us no matter our age, culture, gender or political beliefs. The design of the Market intentionally works to create natural opportunities for gathering and connecting while offering an inclusive space that attracts people from all backgrounds.
The key areas of our Public Market include:
Market Hall: The Marquee of the Market, this large, central space will house 30+ permanent market merchant booths plus space for temporary vendors too. The variety of booth sizes and permanent/seasonal vending options will offer opportunities for local businesses both big and small to call the Market home. A restaurant and a cafe will provide important anchor tenant spaces while small 10×10 booths provide affordable, flexible space for MarketReady and other start-up businesses.
South Hall Event Space: Unique to our Market, the South Hall will provide an event and temporary vending space (3,000 sq. ft.) for winter farmer's markets, live music, pop-up craft fairs and many other events. It will be available for weddings, conferences, and family gatherings, accommodating seating for 300 people. We are keeping the 2 story overhead doors, making it possible to drive in food trucks for winter indoor food cart festivals and other temporary vending. There will always be something new to experience at the Market!
Wisconsin Dairy Experience: Wisconsin's rich history in farming is what makes our incredible local food culture and our Madison Public Market possible. Through a partnership with the Dairy Farmers of Wisconsin, we'll feature a 1,200 WI Dairy Experience that will offer variety of unique cheese vendors, an interactive dairy exhibit, free cheese tastings and perhaps even milk on tap!
Market Kitchen: The Market will offer a commercial kitchen for vendors to have a shared food prep area and the opportunity to cater out of the Market. Cooking classes, demos, and collaborations with other community organizations will also be available through the Market Kitchen.
Children's area: The Market will be a place for the oldest to the very youngest and for everyone in between. A child and family area for the kiddos will make this a great family destination.
Art spaces: The Madison Public Market Foundation is creating multiple art spaces within and around the Market to focus on local food history and traditions from a variety of local cultures. These vibrant, colorful and educational art expressions are being conducted through collaboration with a variety of organizations including Today Not Tomorrow, Centro Hispano, the Farley Center for Justice, and Ho Chunk Gaming Madison.
Second Floor Mezzanine: Upstairs overlooking the bustling Market Hall is the Market Mezzanine. This ADA accessible second floor level will offer unique views of the Market, plenty of seating, the children's area, a community meeting space, a small kitchenette to support meetings, bathrooms, and office space for the Madison Public Market Foundation.
Floor Plan A
(Click on the image for details)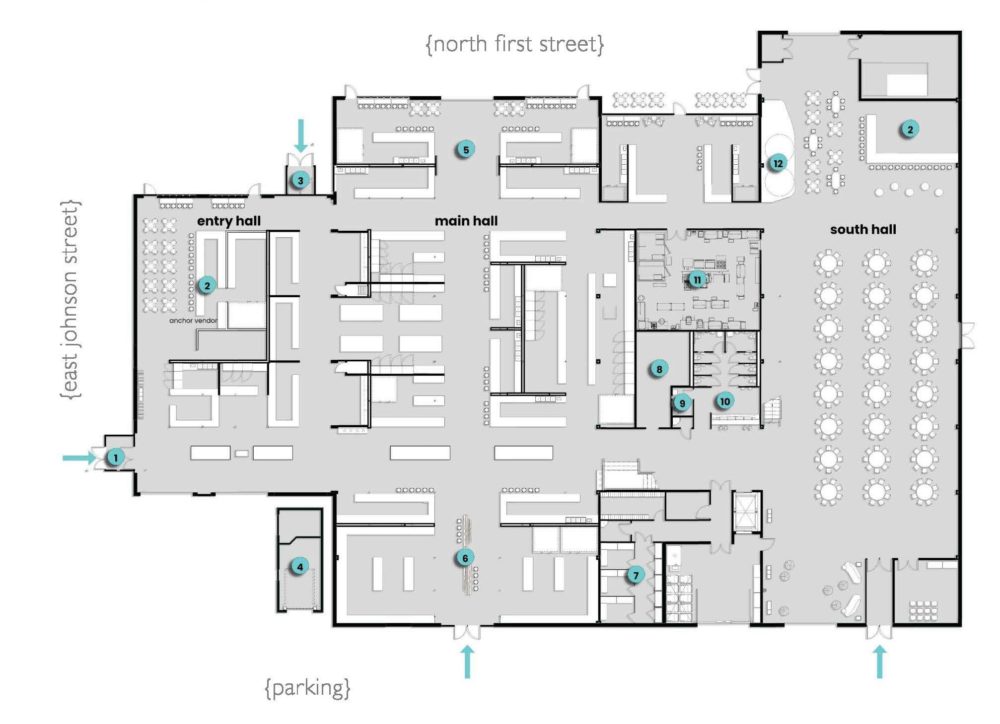 Floor Plan B
(Click on the image for details)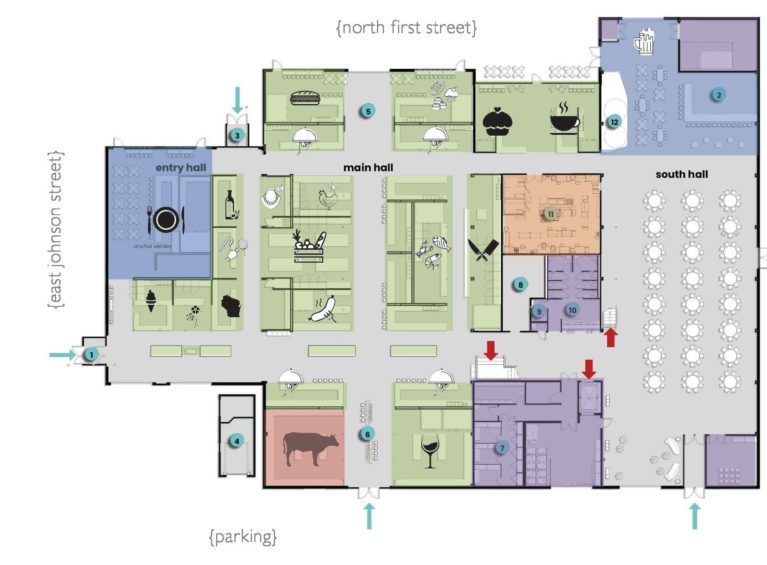 Floor Plan C – 2nd Floor Mezzanine
(Click on the image for details)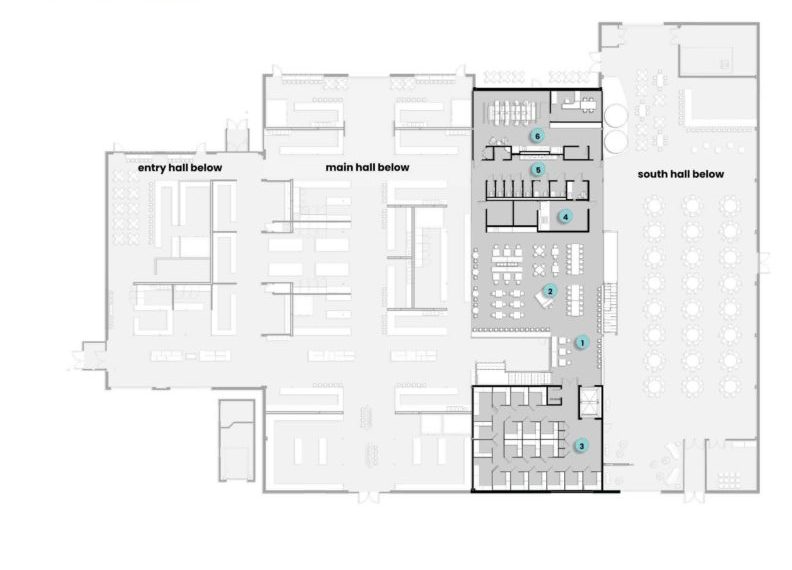 Image from the Mezzanine
(click on the image for an enlarged rendering)