E. Johnson & First Street
Our Madison Public Market will be housed in the current City Fleet Services building located at the corner of E. Johnson and First Streets.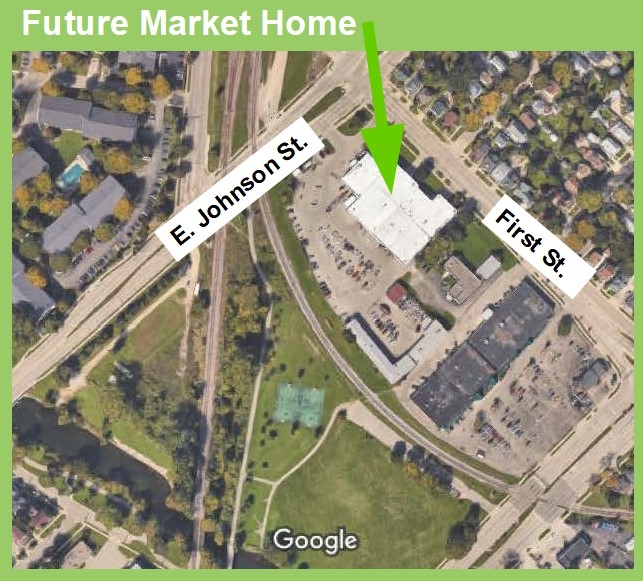 This location is ideal for a variety of reasons:
Fleet building's 2-story open space floor plan
45,000 square feet
existing floor to ceiling windows
3.5 acres for outdoor seating, live entertainment, food carts, and parking
connection to neighboring Burr Jones Field, the Yahara River, and multiple bikes paths
Served by 220 buses per day
3,500 residents live within walking distance
In February of 2019, the architecture team for the Public Market, led by MSR architecture firm, was selected and design work will be conducted spring – fall of 2019. There will be many opportunities for the community to provide input so stay tuned!
The Madison Public Market design work is being conducted using the following principles:
Creating a place where all people from all backgrounds feel welcome and included
Ensuring that the Market feels warm, inviting, simple, and modest
Using natural materials that reflect the history, culture, and natural beauty of the Isthmus
Creating spaces within the Market that naturally encourage community gathering and place-making
Creating connections to nearby Burr Jones Field, Yahara River and the bike path
Making sure there is adequate parking available and easily accessible on site and that the traffic flow is efficient and seamless for large trucks and visitors who travel by all modes of transportation.
The Public Market project is a multi-use dynamic center that offers a variety of activities and experiences. Different key spaces within the Market include:
Market Hall: The Marquee of the Market, this large, central space with house 40+ permanent market merchant booths plus 3,000 square feet of event and temporary vending space to host winter farmer's markets, live music, pop-up craft fairs and many other short-term events. There will always be something new to experience at the Market!
Outdoor Market Plaza: Adjoining Market Hall, will be an outdoor, flexible space that will allow for outdoor seating, a small stage for live music and other performances, artwork, and seasonal food carts.
Food Innovation Center: To better meet the demand for local food in larger institutions such as hospitals and schools, the Food Innovation Center will provide greatly needed space to increase local food production and workforce training. Thanks to the Center, the Public Market will help significantly increase access to local food in neighborhoods across our region.
Event space: From weddings to free nutrition classes to community meetings, flexible event space will be available 24/7 at the Market.
Children's area: The Market will be a place for the oldest to the very youngest and for everyone in between. A child and family area for the kiddos will make this a great family destination.
Art spaces: The Public Market Foundation is working with multi-cultural leaders to pepper the Market with stories of local food history and traditions from a variety of local cultures that make up who we are as a community today. The Foundation is also partnering with the Madison Arts Commission to create a plan for local art displayed throughout the Market space.