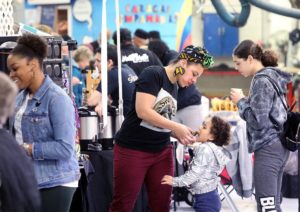 May 9, 2019. As rain poured down from dark skies Wednesday, the future home of the Madison Public Market was alive with excitement as visitors got a flavor of what the long-anticipated East Side venue will be like when it opens in two years.
Over the course of a two-hour open house at what is now the city's Fleet Services building at 200 N. First St., the large room with 20-foot ceilings was almost always full. More than 1,000 people attended the event, according to Madison Public Market Foundation estimates.
This was the first time the public could tour the space, which has been a long time coming. Advocates have been pushing for the project for at least 14 years, with delays in part stemming from choosing a location.