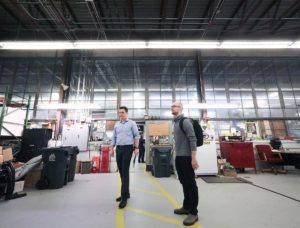 May 7, 2019. The 66-year-old building with sweeping interior open spaces and 20-foot ceilings, huge bay doors, and expansive rows of windows is poised for new life.
Already, there is a sense of big things ahead for the two-story industrial space, currently the city's Fleet Services building on the East Side, which has been chosen as the future home of the $13.2 million Madison Public Market.
The Public Market, advocates and city officials say, will be a year-round, inclusive and welcoming community destination featuring a diverse group of entrepreneurs offering fresh produce, culturally diverse prepared food, locally made food products, and handcrafted arts and crafts.