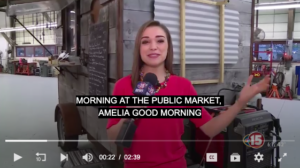 May 8, 2019. The City of Madison invited the public to attend an open house to see the building that will become the future Madison Public Market. Hundreds flocked to the old City of Madison Fleet Services building to get a taste of vendors that will be at the Madison Public Market.
"They have great food," Al Cooper said. "They included all sectors of the community."
Cooper has lived in Dane County for decades. He is excited for the Madison Public Market and thinks it will bring a lot to the East side community.