Boardman Clark announced its flagstone corporate sponsorship during a special "Taste of the Madison Market" event, held on October 18, 2018 in Boardman Clark's main office in downtown Madison. While the firm's sponsorship includes a financial commitment of $250,000 over the next five years, the firm has also committed to providing programming and other nonfinancial support of the Market's various community-focused initiatives, such as the Market Ready Program, which helps entrepreneurs build successful business foundations.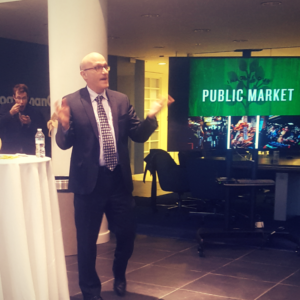 "We are very proud to be supporting the Madison Public Market," said Richard Heinemann, Managing Partner at Boardman Clark (pictured left). "To us, this project is about more than creating a space to sell goods. It is an investment in the community, a chance to empower underrepresented entrepreneurs, and a great venue to sample Madison's diverse foods, crafts, and culture."
Dairy Farmers of Wisconsin is partnering with the Madison Public Market to create an interactive space that will showcase everything we love about Wisconsin Dairy and our rich heritage of cheesemaking. This special area of the Market will include interactive exhibits, education and delicious cheese and dairy products from Wisconsin.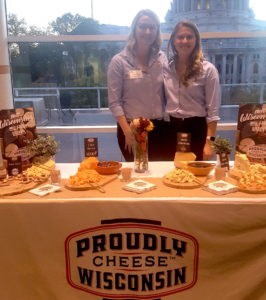 "We're excited to create a destination within the Market for locals & visitors alike to celebrate the vast array of our state's award-winning cheese and to honor the dairy farmers in Wisconsin." -Suzanne Fanning, VP of Marketing Communications for Dairy Farmers of Wisconsin.
Madison Public Market Foundation Board President, Jamaal Stricklin, shared the significance of Boardman Clark and Dairy Farmers of Wisconsin's early commitments to the project. "This early support of the Market has helped us build momentum for making our Public Market a reality. We are so grateful for Boardman Clark's early investment. When combined with Dairy Farmer of Wisconsin's support plus other early gifts, we're closing in on our first $1 million to support our $4 million capital campaign."
It's exciting to see the community step up in a significant way to support the Public Market. If you are interested in joining with us to help bring our project to life, you can donate here or call Amanda White at (608) 698-9104 for more information. Naming and other special, unique recognition opportunities are available.